Discover what's in demand
Keeping up with our latest research and findings, we gathered information from reports and handbooks to give you an idea of the best in-demand engineering & tech jobs of the future.
In this deck, we've laid out out: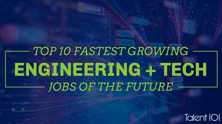 the top 10 hottest engineering & tech jobs of the future
implications of industry and employment growth
key work trends
This resource delivers the knowledge and insight of relevant employment trends to help top talent prepare for a career in engineering and tech, and push companies to stay ahead of the game.
Just complete the form on the right and we'll send you a copy of the deck!